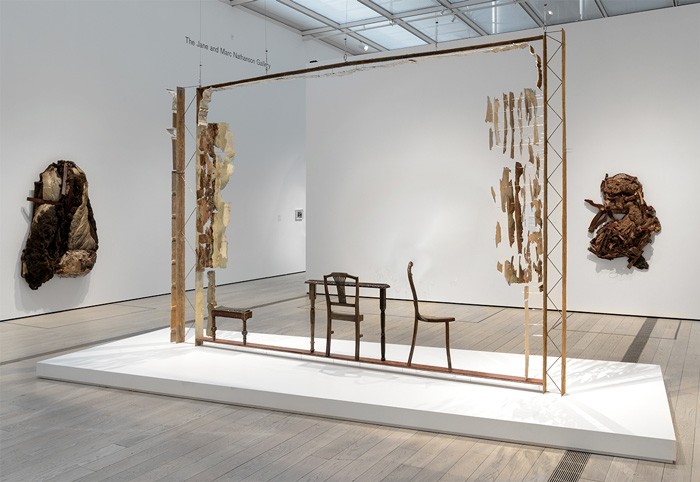 .
page for Excision (2012)
-
Publication (wall/book*book/wall)
-
Leyla Cárdenas.
Excision
2012
Plaster, recovered wallpaper, peeled paint, wood furniture, steel
Measurements: 4.50mts x 3.20mts x 12 cms aprox.

Home-So Different, So Appealing. Edited by Chon A. Noriega, Mari Carmen Ramírez, and Pilar Tompkins Rivas. [Excision (2012) on the cover of the catalog]. Los Angeles County Museum of Art (LACMA) - UCLA CSRC 2017.
**
"Curators of "Home: So Different, So Appealing" at the Los Angeles County Museum of Art (summer 2017), delineate a porous border around the home-affiliated artworks of several generations of Latin American and American Latino artists, and then divide these into further loose categories. Of perfect metaphorical pitch is Excision, by Leyla Cárdenas — which is at once souvenir, monument, frame, picture, spatially inescapable, and almost invisible — as intimate and specific and somehow therefore universal as any memory. The piece is a literal archaeological extraction of a four centimeter strip of a room, from its exterior façade to the spindles of chairs to the emptiness of air between. It was taken from a house about to be demolished in Bogotá in the name of urban renewal.
Excision has something materially and sociopolitically to do with the other work in the category it shares in this show, but as much or more to do with Rachel Whiteread's House of 1993 than it does with its neighbors in its current exhibition. House was a sculpture made in London's working class East End: a life-sized cast of the interior of a condemned terraced house made by spraying liquid concrete into the building's empty shell before its external walls were removed. House was a monument to lost domestic space and to a whole way of life, evoking the former occupants through their very absence and through the entombment of the space. Its controversial creation and destruction made it a focus for public debate about the nature of contemporary art. In the way that it awakened an awareness of the community around it, House became more than a sculpture, or entered a more open space for what sculpture is. In a world where home is more elusive than ever, artists are among those on the move, sometimes by election but usually otherwise, and are searching for meaning along the way, using the house as the north star of metaphors."
The House in and as Contemporary Art
ART ESSAYS by Farrah Karapetian
--------
* CATALOG INFO:
Home - signaling a dwelling, residence or place of origin - embodies one of the most basic concepts for understanding an individual or group within a larger physical and social environment. Yet home has been a little noted, although prevalent, feature in art since the 1950s, a period in which artists challenged the traditional "object" of the visual arts through the use of material and media culture, new forms, and performative actions and processes. This volume explores works by diverse U.S. Latino and Latin American artists whose engagement with the concept of "home" provides the basis for an alternative narrative of post-war art. Their work brings together an impressive array of formal languages, conceptual strategies, and art historical references with the varied social concerns characterizing both the postwar period in the Americas and an emerging global economy impacting day-to-day life.
The artists featured in this volume engage home as both concept and artifact. This can be seen in the use of building fragments or excisions (Gordon Matta-Clark, Gabriel de la Mora, and Leyla Cárdenas)*

Home-So Different, So Appealing. Edited by Chon A. Noriega, Mari Carmen Ramírez, and Pilar Tompkins Rivas. [Excision (2012) on the cover of the catalog]. Los Angeles County Museum of Art (LACMA) - UCLA CSRC 2017.
Catalog